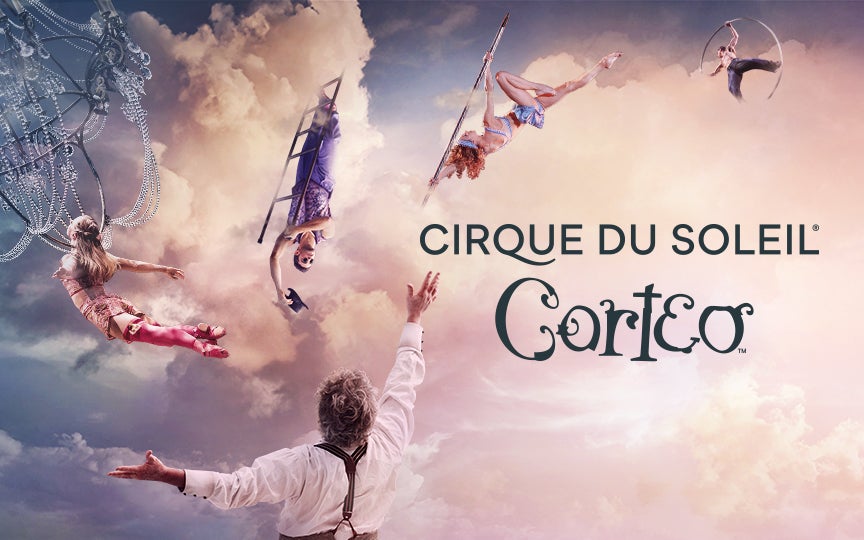 Cirque du Soleil
Corteo
Cirque du Soleil
Corteo
Event Details
Corteo, which means cortege in Italian, is a joyous procession, a festive parade imagined by a clown. The show brings together the passion of the actor with the grace and power of the acrobat to plunge the audience into a theatrical world of fun, comedy and spontaneity situated in a mysterious space between heaven and earth.
The clown pictures his own funeral taking place in a carnival atmosphere, watched over by quietly caring angels. Juxtaposing the large with the small, the ridiculous with the tragic and the magic of perfection with the charm of imperfection, the show highlights the strength and fragility of the clown, as well as his wisdom and kindness, to illustrate the portion of humanity that is within each of us. The music turns lyrical and playful carrying Corteo through a timeless celebration in which illusion teases reality.
In a Cirque du Soleil first, the stage is central in the arena and divides the venue, with each half of the audience facing the other half, giving a unique perspective not only of the show, but also a performer's eye view of the audience. It is an atmosphere never seen before in Cirque du Soleil arena shows. The set curtains, inspired by the Eiffel Tower, and the central curtains, which were hand-painted, give a grandiose feel to the stage. This sets the tone for the poetry of Corteo.
Additional Ticket Information
All sales are final. No refunds, exchanges or upgrades.
Prices are subject to change.
There is a 10 (ten) ticket limit. Children ages 2 & above need a ticket.
Prices listed on this page include facility fee and are the final price per ticket at the MVP Arena Box Office. Purchases on Ticketmaster will incur additional service/order fees. Tickets for Cirque du Soleil will be available at the Box Office beginning at 10am on Monday, October 23. Box Office hours are Mon-Fri 10am-4pm. Only standard admission tickets are available at the box office.
CLEAR plastic, vinyl or PVC bags no larger than 12" x 6" x 12" will be allowed. Small clutch bags no larger than 4.5" x 6.5" (approximately the size of a hand) will be allowed and do not need to be clear. Larger and other types of bags are prohibited.
There is no storage or check-in for prohibited bags. For patrons with young children in attendance, diaper bags are allowed and subject to search.
The following items (including but not limited to) are prohibited:
professional cameras
video/audio recorders including GoPro and stick style HD cameras
weapons of any kind
backpacks
outside food and beverage
glass items
fireworks
laser pens, glow sticks
banners on poles
selfie sticks
umbrellas
poster tubes
Concessions do not accept cash. Cards, Apple Pay and Google Pay are accepted.