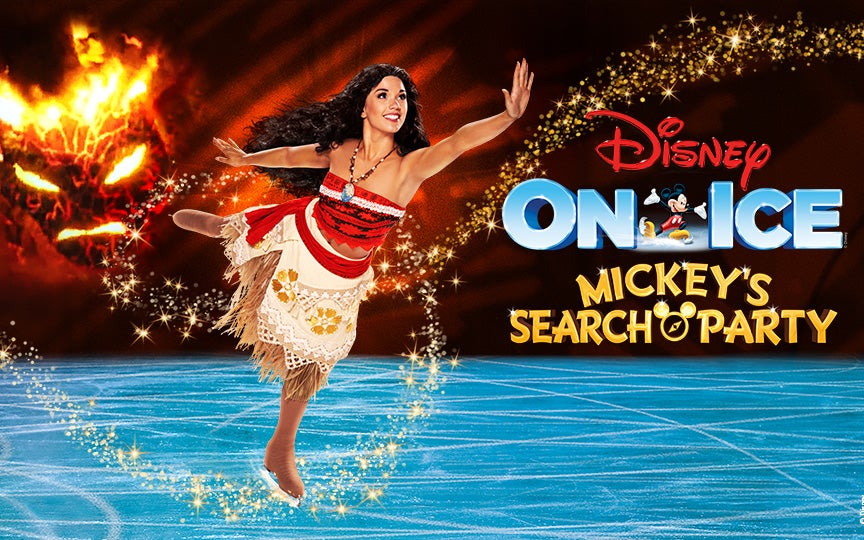 Disney On Ice presents Mickey's Search Party
Disney On Ice presents Mickey's Search Party
Event Details
Join Mickey Mouse and his friends at Disney On Ice presents Mickey's Search Party, an adventure filled with world-class skating, high-flying acrobatics and unexpected stunts! Look for clues in the search for Tinker Bell through immersive, fantastic worlds. Help unlock an epic journey when Disney On Ice presents Mickey's Search Party delivers an unforgettable experience at MVP Arena from December 14-17, 2023.
Group Sales are not available.
Additional Ticket Information
Ticket pricing is subject to change based on market demand.
All sales are final. No refunds, exchanges or upgrades.
There is an eight (8) ticket limit for this event. Group Sales are not offered.
All guests ages 2 and older must have a ticket.
Tickets are available for purchase in person at MVP Arena Box Office beginning at 10am on Tuesday, September 5. Box Office hours can be found HERE
Embark on a quest with Mickey Mouse and pals as they follow Captain Hook's treasure map for clues to find Tinker Bell after he attempts to capture her magic. Journey across the Marigold bridge with Miguel from Disney Pixar's Coco into the magnificent and mystical Land of the Dead and discover a vibrantly colorful performance with skeletons atop sway poles dancing over the audience in a beautiful cultural celebration of family. Travel to the wintry world of Arendelle and sing along with Elsa as video projection creates a kaleidoscope of crystals to help build her ice palace. Witness Belle lift into the sky as the enchanted chandelier comes to life high over the ice. Demonstrate the power of teamwork when Buzz Lightyear, Woody and Jessie recruit the Green Army Men for a daring rescue in Andy's room. Laugh hysterically as the hilarious pirates flip, tumble, and twist on tumble tracks, stilts and more in an effort to showcase their talents for Captain Hook. Sail away with Moana on her daring voyage across the ocean and bravely encounter the fiery wrath of Te Ka. And make memories with your whole family during Aladdin and The Little Mermaid as the search party becomes an all-out magical celebration.
CLEAR plastic, vinyl or PVC bags no larger than 12" x 6" x 12" will be allowed. Small clutch bags no larger than 4.5" x 6.5" (approximately the size of a hand) will be allowed and do not need to be clear. Larger and other types of bags are prohibited.
There is no storage or check-in for prohibited bags.
For patrons with young children in attendance, diaper bags are allowed and subject to search.
The following items, including but not limited to, are prohibited:
outside food and beverage
professional cameras
video/audio recorders including GoPro and stick style HD cameras
weapons of any kind
backpacks
glass items
lasers and glow sticks
fireworks
laser pens, glow sticks
banners on poles
selfie sticks
umbrellas
poster tubes
Concessions do NOT accept cash. Cards, Apple Pay and Google Pay are accepted.
Please be advised, outside food and beverages are prohibited.
Guests are strongly encouraged to not bring strollers. If you must bring one, please be advised there will be designated stroller parking areas located just before reaching the security checkpoint. You will not be able to bring your stroller past the checkpoint or into the seating area of the arena.
MVP Arena Parking Garage is located behind and attached to MVP Arena. It can be accessed from either Beaver St. or Market St. Use street number 100 for GPS.
For Disney On Ice, rate is $10 per vehicle (6'6" clearance). Cash and cards are accepted methods of payment. Rates charged at surrounding garages and lots may differ and are not controlled by MVP Arena.
If parking in MVP Arena Parking Garage, use the arena entrance located on level 3.
For additional parking options near MVP Arena, please visit Park Albany
Infant formula is allowed.
Empty water bottles are allowed.
Guests ages 2 years and older need a ticket to enter. Children under 2 are admitted without a ticket provided they sit on a parent or guardian's lap.
Disney On Ice productions vary in length, but they average between one hour and a half to two hours. This includes a 15-20 minute intermission.
As part of the magical experience, several Disney On Ice show feature special effects, including a safe theatrical fog, strobe lights and dazzling special effects. We recommend contacting Feld Customer Service here for specific details about the show you are attending.
Feld Entertainment reserves the right to deny admission to or remove any person wearing attire that is considered inappropriate or attire that could detract from the experience of other guests. This includes but is not limited to costumes and costume masks for guests 14 years of age or older, clothing with objectionable material, excessively torn clothing, clothing that exposes excessive portions of skin that may be viewed as inappropriate for a family environment, obscene or profane tattoos. Costumes are not permitted for guests 14 years and older.
For guests under the age of 14, costumes may be worn. Guests may not pose for pictures or sign autographs for other guests. Costumes must be family-friendly and may not be obstructive, offensive, objectionable or violent. Costumes may not contain any props or accessories that resemble or could be mistaken for an actual weapon. Costumes may not contain sharp objects, pointed objects or materials that may accidentally strike or injure another guest. Layered costumes or costume props that surround the entire body are strongly discouraged and may be subject to additional security screening. Costumes may not drag or trail on the ground. Capes may be worn if the length does not go below the waist.
For additional Disney On Ice FAQs, please visit Feld Entertainment here.