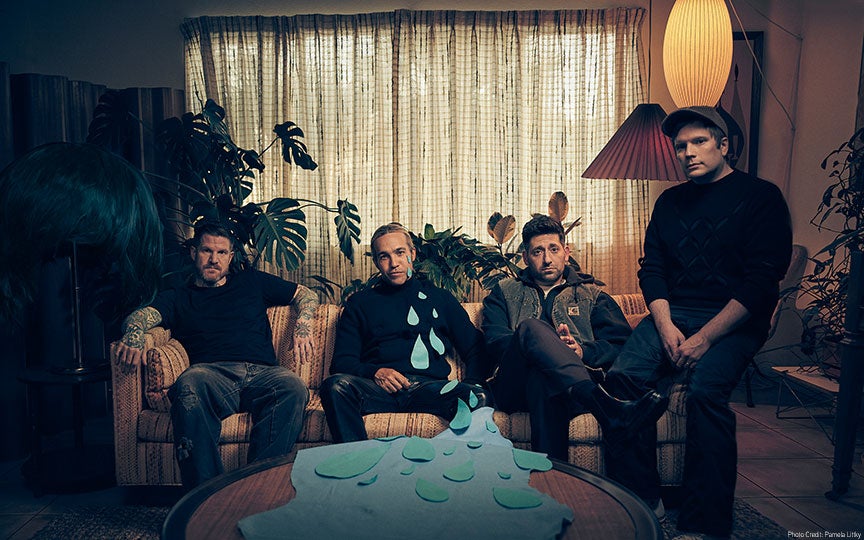 Fall Out Boy
Fall Out Boy
Event Details
Due to overwhelming demand, GRAMMY Award-nominated and multi-platinum selling rock band Fall Out Boy's worldwide So Much For (Tour) Dust tour will continue next year with the announcement of So Much For (2our) Dust, a 20+ date run across the United States.
So Much For (2our) Dust, presented by Live Nation, will stop at MVP Arena in Albany, NY on March 24, 2024 with special guests Jimmy Eat World, Hot Mulligan and Games We Play.
The news follows the August 6 conclusion of So Much For (Tour) Dust's initial North American run, which kicked off June 21 with a sold out, epic hometown show at Wrigley Field in Chicago, IL and was dubbed "the loudest concert Wrigley's ever had" by the Chicago Sun-Times.
Each show also included the use of a Magic 8 Ball to surprise fans with a performance of a Fall Out Boy song that had never played live before, which became one of the most buzzed about topics of the summer, igniting fans across social media – and spawning a trend on TikTok, with hundreds of thousands of views – to determine what songs might be coming next.
So Much For (Tour) Dust has proven to be another career display of Fall Out Boy's undeniable and renowned live performance prowess, featuring multiple sold-out dates; four stadiums shows (Fenway Park in Boston, Forest Hills Stadium in Queens, two nights at BMO Stadium in Los Angeles); special guests (Mikey Way in San Diego, Travie McCoy in Queens); unforgettable production, visual effects and pyrotechnics; and widespread praise from fans and critics alike:
"In a dazzling concert packed with Fall Out Boy songs new and old, the band proved why they still have the hearts of pop-punk lovers of all ages." – Tampa Bay Times
"At Fenway, Fall Out Boy bring the fireworks" – Boston Globe
"When they took the stage, Fall Out Boy immediately showed they're in the upper echelon of modern rock performers alongside the likes of Weezer, Green Day and Foo Fighters." – Exclaim!
"Fall Out Boy gave us more than we bargained for with a genre-defying, sensational show… The highlight of the evening came when the stage was stripped down, the backdrop dimmed and the lighting rigs lowered, creating the illusion of an intimate club reminiscent of the ones where Fall Out Boy played during their formative years. Fall Out Boy's flawless performance of their timeless anthem, "Grand Theft Autumn," reminded us of the lasting impact of their music." – Dallas Observer
"Patrick Stump, Pete Wentz, Andy Hurley, and Joe Trohman let it all hang out on stage after going through their extensive catalog of tunes that helped shape a generation of millennials who grew up choosing to proudly showcase the pop rock genre on their thoughtfully curated Myspace profile pages. The sold out crowd flooded merchandise lines that stretched around the sunny field before the beginning of the event to show fierce loyalty and dedication to a group that continues to not only stand the test of time, but swiftly adapt in the ever changing scene known as the music industry." – The Queens Gazette
"In addition to delivering a great set of music, Fall Out Boy lit up the night with a pyrotechnics display worthy of a July 4 celebration." – Cleveland Plain-Dealer
"Fall Out Boy burn bright at Michigan's Pine Knob Music Theatre… the pop-punk titans still have plenty of sway in the area…With the combination of classics and recent hits, sparks flew at the concert (literally and figuratively)." – Glide Magazine
Additional Ticket Information
All sales are final. No refunds, exchanges or upgrades.
Prices are subject to change.
There is an 8 (eight) ticket limit.
Prices listed on this page include facility fee and are the final price per ticket at the MVP Arena Box Office. Purchases on Ticketmaster will incur additional service/order fees. Tickets for Fall Out Boy will be available at the Box Office beginning at 10am on Friday, September 15. Box Office hours are Mon-Fri 10am-4pm.
Only standard admission tickets are available at the box office.
CLEAR plastic, vinyl or PVC bags no larger than 12" x 6" x 12" will be allowed. Small clutch bags no larger than 4.5" x 6.5" (approximately the size of a hand) will be allowed and do not need to be clear. Larger and other types of bags are prohibited.
There is no storage or check-in for prohibited bags. For patrons with young children in attendance, diaper bags are allowed and subject to search.
The following items (including but not limited to) are prohibited:
professional cameras
video/audio recorders including GoPro and stick style HD cameras
weapons of any kind
backpacks
outside food and beverage
glass items
fireworks
laser pens, glow sticks
banners on poles
selfie sticks
umbrellas
poster tubes
Concessions do not accept cash. Cards, Apple Pay and Google Pay are accepted.