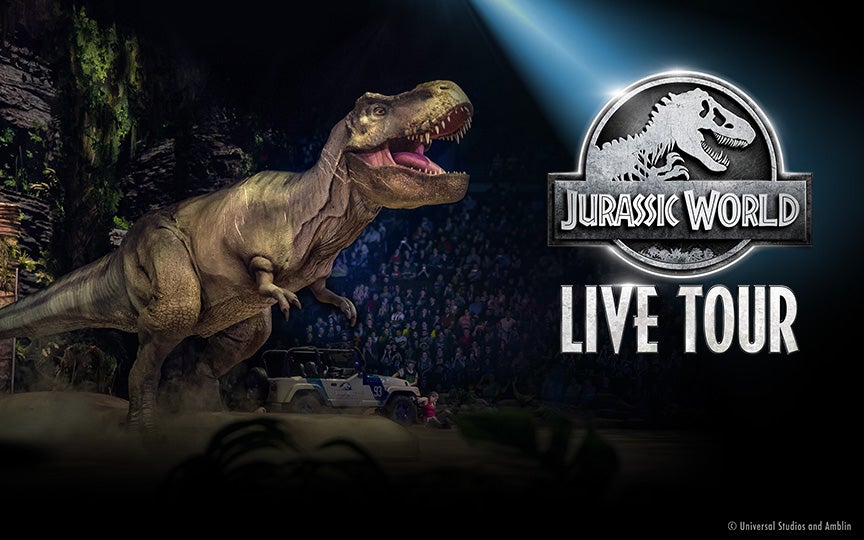 Jurassic World
Jurassic World
Event Details
Your trip to Isla Nublar takes a terrifying, unexpected turn when Indominus rex escapes and causes chaos in the park! Join forces with a team of scientists to unravel a corrupt plan and save Jeanie, a Troodon dinosaur, from a terrible fate. Along the way, experience some of Jurassic World's most iconic dinosaurs including Blue the Raptor, Stegosaurus, Triceratops and the mighty Tyrannosaurus rex!
There is an eight (8) ticket limit for this event. Group Sales are not offered.
All guests ages 2 and older must have a ticket.
Additional Ticket Information
All sales are final. No refunds, exchanges or upgrades.
There is an eight (8) ticket limit for this event. Group Sales are not offered.
All guests ages 2 and older must have a ticket.
Prices may vary and are subject to change.
CLEAR plastic, vinyl or PVC bags no larger than 12" x 6" x 12" will be allowed. Small clutch bags no larger than 4.5" x 6.5" (approximately the size of a hand) will be allowed and do not need to be clear. Larger and other types of bags are prohibited.
There is no storage or check-in for prohibited bags. For patrons with young children in attendance, diaper bags are allowed and subject to search.
The following items, including but not limited to, are prohibited:
outside food and beverage
professional cameras
video/audio recorders including GoPro and stick style HD cameras
weapons of any kind
backpacks
glass items
lasers and glow sticks
fireworks
laser pens, glow sticks
banners on poles
selfie sticks
umbrellas
poster tubes
Concessions do not accept cash. Cards, Apple Pay and Google Pay are accepted.
Please be advised, outside food and beverages are prohibited.
Guests are strongly encouraged to not bring strollers. If you must bring one, please be advised there will be designated stroller parking areas located just before reaching the security checkpoint. You will not be able to bring your stroller past the checkpoint or into the seating area of the arena.
Is this show appropriate for fans of all ages?
Jurassic World Live Tour was created for fans of all ages. Parents are best suited to determine what is age appropriate for their children. The show features special effects, including strobe lights and a safe theatrical fog, along with the wonder and thrills that the Jurassic World brand is known for. Kids aged 2 years and up will require a ticket/seat, 23 months and under may sit on a guardians lap
MVP Arena Parking Garage is located behind and attached to MVP Arena. It can be accessed from either Beaver St. or Market St. Use street number 100 for GPS.
For Jurassic World, rate is $10 per vehicle (6'6" clearance). Cash and cards are accepted methods of payment. Rates charged at surrounding garages and lots may differ and are not controlled by MVP Arena.
If parking in MVP Arena Parking Garage, use the arena entrance located on level 3.
For additional parking options near MVP Arena, please visit Park Albany