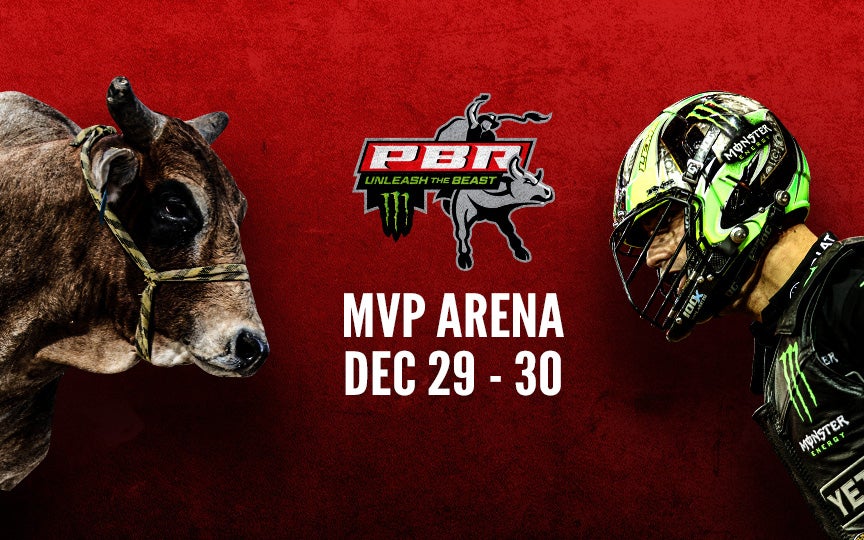 PBR Unleash the Beast
PBR Unleash the Beast
Event Details
PBR's (Professional Bull Riders) elite Unleash The Beast will compete in Albany, New York, bucking into MVP Arena Dec. 29-30.
For two nights only, 40 of the best bull riders in the world will go head-to-head against the sport's rankest bovine athletes, showcasing the ultimate showdown of man vs. beast in one of the most exciting live sporting events to witness.
Additional Ticket Information
All sales are final. No refunds, exchanges or upgrades.
Prices are subject to change.
Prices listed on this page include facility fee and are the final price per standard ticket at the MVP Arena Box Office. Purchases on Ticketmaster will incur additional service/order fees. Single day tickets can be purchased in person at the box office beginning at 10am on Monday, August 7. Through Sept 10, Box Office hours are Mon-Fri 10am-4pm.
CLEAR plastic, vinyl or PVC bags no larger than 12" x 6" x 12" will be allowed. Small clutch bags no larger than 4.5" x 6.5" (approximately the size of a hand) will be allowed and do not need to be clear. Larger and other types of bags are prohibited.
There is no storage or check-in for prohibited bags. For patrons with young children in attendance, diaper bags are allowed and subject to search.
The following items are prohibited:
professional cameras
video/audio recorders including GoPro and stick style HD cameras
weapons of any kind
backpacks
outside food and beverage
glass items
fireworks
laser pens, glow sticks
banners on poles
selfie sticks
umbrellas
poster tubes
political banners
wallet chains
sharp spiked jewelry
tin cans
aerosol cans
personal security pepper spray/mace
noise making devices (whistles, horns, bells)
inflatable items (beach balls, etc.)
Concessions do NOT accept cash. Cards, Apple Pay and Google Pay are accepted.