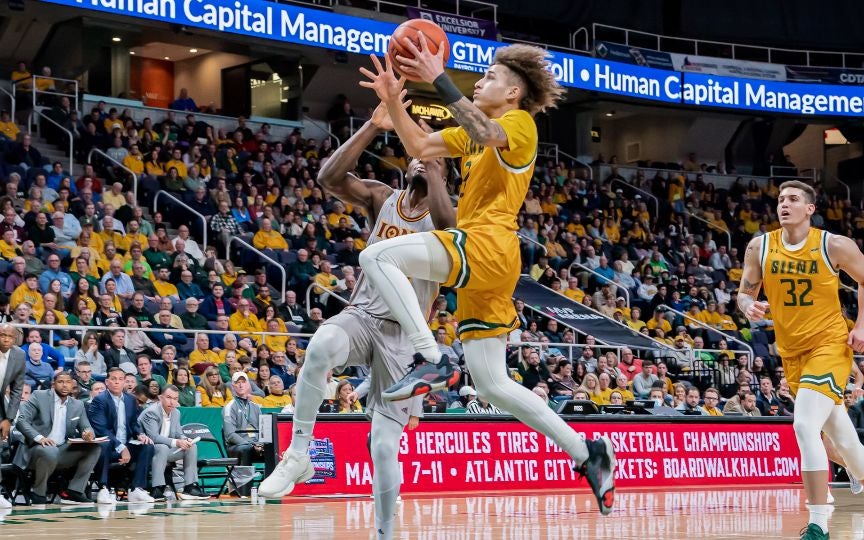 Siena Saints 2023-2024 Schedule
Nov
6
|

2023
-
Mar
7
|

2024
Date

Nov

6

|

2023

-

Mar

7

|

2024

On Sale

On Sale TBA
Siena Saints 2023-2024 Schedule
Nov
6
|

2023
7:00PM

| Doors
On Sale TBA
Nov
26
|

2023
5:00PM

| Doors
On Sale TBA
Dec
1
|

2023
7:00PM

| Doors
On Sale TBA
Dec
6
|

2023
7:00PM

| Doors
On Sale TBA
Dec
19
|

2023
7:00PM

| Doors
On Sale TBA
Jan
5
|

2024
7:00PM

| Doors
On Sale TBA
Jan
19
|

2024
7:00PM

| Doors
On Sale TBA
Jan
26
|

2024
7:00PM

| Doors
On Sale TBA
Jan
28
|

2024
2:00PM

| Doors
On Sale TBA
Feb
4
|

2024
2:00PM

| Doors
On Sale TBA
Feb
8
|

2024
7:00PM

| Doors
On Sale TBA
Feb
18
|

2024
2:00PM

| Doors
On Sale TBA
Mar
1
|

2024
7:00PM

| Doors
On Sale TBA
Mar
7
|

2024
7:00PM

| Doors
On Sale TBA
Event Details
2023-2024 Siena Basketball season tickets, starting at just $126 for all 14 home games including the Albany Cup on November 26, are on sale now. Season tickets can be purchased online by visiting Ticketmaster here or by contacting the Siena Fan Relations Management Center by email at sienatickets2@siena.edu or by calling (518) 487-2202 during normal business hours.
Home Schedule:
*Monday, November 6 vs Holy Cross @ 7pm
*Sunday, November 26 vs UAlbany @ 5pm
Friday, December 1 vs Rider @ 7pm
*Wednesday, December 6 vs Bryant @ 7pm
*Tuesday, December 19 vs Cornell @ 7pm
Friday, January 5 vs Fairfield @ 7pm
Friday, January 19 vs Quinnipiac @ 7pm
Friday, January 26 vs Iona @ 7pm
Sunday, January 28 vs Saint Peter's @ 2pm
Sunday, February 4 vs Mount St. Mary's @ 2pm
Thursday, February 8 vs Marist @ 7pm
Sunday, February 18 vs Canisius @ 2pm
Friday, March 1 vs Manhattan @ 7pm
Thursday, March 7 vs Niagara @ 7pm
*non-conference
Additional Ticket Information
All sales are final. No refunds, exchanges or upgrades.
Prices are subject to change.
CLEAR plastic, vinyl or PVC bags no larger than 12" x 6" x 12" will be allowed. Small clutch bags no larger than 4.5" x 6.5" (approximately the size of a hand) will be allowed and do not need to be clear. Larger and other types of bags are prohibited.
There is no storage or check-in for prohibited bags. For patrons with young children in attendance, diaper bags are allowed and subject to search.
The following items are prohibited:
professional cameras
video/audio recorders including GoPro and stick style HD cameras
weapons of any kind
backpacks
outside food and beverage
glass items
fireworks
laser pens, glow sticks
banners on poles
selfie sticks
umbrellas
poster tubes
Concessions do not accept cash. Cards, Apple Pay and Google Pay are accepted.
MVP Arena Parking Garage is located behind and attached to MVP Arena. It can be accessed from either Beaver St. or Market St. Use street number 100 for GPS.
For Siena Basketball, rate is $10 per vehicle (6'6" clearance). Cash and cards are accepted methods of payment. Rates charged at surrounding garages and lots may differ and are not controlled by MVP Arena.
If parking in MVP Arena Parking Garage, use the arena entrance located on level 3.
For additional parking options near MVP Arena, please visit Park Albany