FAQ's
What is the COVID-19 entry policy?
As of February 11, 2022, masks are no longer required. Patrons who are more comfortable wearing a mask are encouraged to do so. Patrons are not required to show proof of vaccination or a negative test result. PLEASE NOTE: individual shows may enforce stricter entry policies. Please visit the individual event page for the show you would like to attend to view its specific policy.
Beginning Wednesday, September 14, 2022 the following clear bag policy will take effect:
CLEAR plastic, vinyl or PVC bags no larger than 12" x 6" x 12" will be allowed
Small clutch bags no larger than 4.5" x 6.5" (approximately the size of a hand) will be allowed and do NOT need to be clear
Larger and other types of bags will not be allowed in. There is no storage or check-in for prohibited bags.
For patrons with young children in attendance, diaper bags are allowed and subject to search.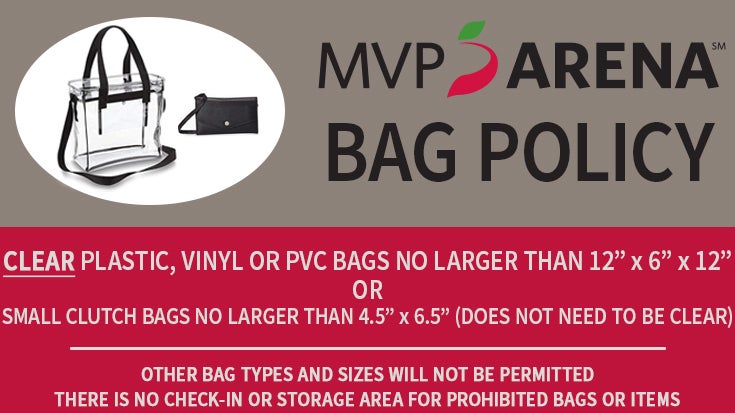 What is the camera policy for MVP Arena events?
As of December 12, 2015, professional cameras are no longer allowed at MVP Arena. Cameras with a detachable lens are considered to be professional. Non-professional cameras without removable lens and cell phones are permitted for picture taking. Individual events may enforce stricter camera policies. If there is a different camera policy, the information will be listed on the individual event page.
Yes! Free Wi-Fi is brought to you by Family Danz. Once you arrive, find and connect to the available network labeled MVP free WIFI by Family Danz.
Can I find out how many tickets have been sold for a particular show?
Not really; it changes every minute! Each stage set-up is different and allows for a different number of seats to be sold. With each ticket sold, the number of seats that are available changes. If you want to know what seats are left, visit the ticketing page for the event you are interested in or visit the MVP Arena Box Office in person - they can tell you what's available at the exact moment you arrive!
How can I get a backstage pass?
Not through us! MVP Arena does not sell or issue backstage passes under any circumstances.
How are the prices of tickets determined?
MVP Arena does not set ticket prices for events. When a show comes to the Arena, the event management essentially rents the building for the time of the performance. Thus, ticket prices are set by the show. Factors that help decide the price of tickets are things such as artist guarantee, tour payroll, production costs, rent, etc.
What is the wristband policy? When are wristbands used?
Wristbands are used at the discretion of the promoter. In most cases, they are used for the on-sale of a large act coming into the Arena. Wristbands are typically distributed several days before the date of the on-sale at the MVP Arena Box Office. Patrons must wear the wristbands throughout the on-sale. If a wristband is removed or tampered with, it is invalid. Only one (1) wristband is allowed per patron. On the morning of the on-sale, a number is randomly selected from the pool of patrons, and the person wearing the matching wristband becomes first in line to purchase tickets. The persons with the numbers preceding the number chosen must move to the end of the line.
A GA or (General Admission Floor) means there are no seats. In other words, the event is standing room only, and your spot on the floor is based on a first-come, first-served basis. Wristbands are typically distributed when you enter the building with your GA ticket. You will need your ticket and your wristband (on your wrist) to get to and stay on the floor.
Are there any gluten free options at the concession stands?
Here is a complete list of our gluten free options and where to buy them:
Popcorn- Capital Kitchen/Knickerbocker Grill/Red Star Bar/Northside Snacks/Stella Bar/Miller Lite Bar/Drink NY Bar
French Fries- Capital Kitchen/Knickerbocker Grill
Harvest Salad- Northside Snacks/Red Star Bar
New York Chips- Taste NY
Nachos & Cheese- Northside Snacks/Red Star Bar
Sabrett Hot Dog (sans bun)-Capital Kitchen/Knickerbocker Grill/Red Star Bar/Northside Snacks
Cheeseburger (sans bun)-Capital Kitchen/Knickerbocker Grill
Peanuts- Capital Kitchen/Knickerbocker Grill/Red Star Bar/Northside Snacks
M&Ms, M&M Peanut, Snickers, Starburst, Skittles- Capital Kitchen/Knickerbocker Grill
*While we offer gluten-free menu options, we are not a gluten-free facility and cannot guarantee that menu items are 100% free of gluten, as there is always a possibility of trace amounts crossing over from other kitchen areas. Please consider this when ordering from our menu.*
Why do I sometimes find events listed on an artist's Website before it's posted on the MVP Arena site?
A lot of times, information announcing a concert to be held at MVP Arena will be posted on a band's Website, and not on the MVP Arena site. We do not post any tour information or announce shows at the Arena until we have a signed contract from all parties. In the past, tours have announced shows coming into the Arena and, due to unforeseen circumstances, subsequently cancelled the date. We only tell you about upcoming events when we have the signed paperwork.
Click here to see seating charts for different types of events at MVP Arena.
Seats for every show are different. The maximum capacity for MVP Arena is 17,500. There are no "bad" seats at the Arena. For concerts, the Arena has three (3) levels: Floor, First Tier, and Second Tier. Binoculars are allowed, so if your seats are in the second tier, bring a pair to get a close-up view of your favorite artists while they perform. Click here to view seating charts.
How can I find out what seats are left for a show?
To find the best seats available, please visit the ticketing page for the event you are interested in or visit the MVP Arena Box Office.
Where are suites/box seats located?
Suites are located at the top of the inner bowl of the Arena. Suites are rented on a three-year lease basis (they are currently sold out). If you have tickets for a suite, ask a security guard for assistance. He/she will escort you to your suite.
Can I bring food or beverages into the Arena?
No. Outside food and beverages are not allowed inside the Arena. However, there are tasty treats of all kinds available inside the Arena, including pretzels, popcorn, french fries, and almost anything else your heart could desire. We do allow common sense to prevail when dealing with patrons with special dietary/medical needs.
At what age are children required to have a ticket?
For most performances, all children over the age of two (2) must have a ticket. Children under two (2) without a ticket cannot take a seat; they must sit on your lap. For family-type shows (e.g., Sesame Street Live), everyone who is one (1) year old and over needs a paid ticket.
Where can I purchase tickets?
Tickets are available at the MVP Arena Box Office and online by selecting the event you are interested in attending on our events listing and clicking on the Tickets button. Depending on the event, online tickets may be available through either ticketmaster.com or axs.com.
Where is the best place to park for Arena events?
The Arena manages a parking garage attached to the west end of the building. Parking Rates are as follows: $135 monthly parking, $8 daily parking, (event rates vary). Hours of operation for daily parking are 7:00am - 3:00pm, Monday - Friday. Monthly parkers have access 24 hours a day, 7 days a week. For information on hours and rates contact Kareim Graham, Garage Manager, at (518) 427-5066 or fax 518-427-0281. In addition, street parking is typically available on nights and weekends. MVP Arena has no control over the prices charged at unaffiliated parking garages. Those prices are set by the independent companies that manage the garages. See our online map for the location of nearby parking lots and garages.
MVP Arena is owned by Albany County.
How do I get to MVP Arena?
Click here for a printable map and directions to the Arena.
What are the security rules at the Arena?
Click here for a complete overview of the MVP Arena security policy. Further, some performances have additional specific security policies.
How do I get handicapped seating for events at the Arena?
Handicapped seating is available by request through the MVP Arena Box Office by calling (866) 308-3394. For additional information, see our Accessibility page.
How do I become an E-Newsletter subscriber? What are the benefits?
You can easily join the MVP Arena E-Newsletter by clicking the "E-Newsletter" button in our Website header and filling out the simple form. There are so many benefits to being a member! For starters, you'll get concert and show announcements delivered right to your e-mail inbox. Plus, you'll be invited to join in available presales and contests for ticket upgrades and free tickets. The best part is - it's FREE! You'll get all the inside tips on upcoming events...and you don't have to pay a penny.
What hotels are located near the Arena?
Where can I find information about employment at MVP Arena?
Where can I get information about hosting my event/conference at MVP Arena?
Please contact us for all inquiries about renting the MVP Arena by sending a message via our contact form or call the Arena general information line at (518) 487-2000.