Albany FireWolves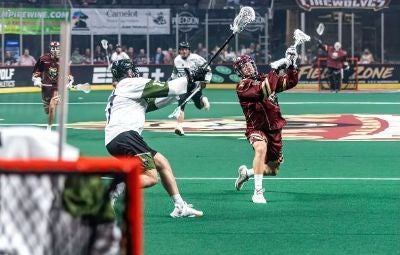 Box lacrosse is played inside the confines of an ice hockey rink, with glass and rink boards intact. The playing surface consists of a green dieter turf carpet that is laid down over the hockey ice. Combined, teams score an average of 25 goals during an NLL game.
Each game consists of four fifteen-minute quarters. A tie at the end of regulation is decided in sudden-victory overtime. Each team has five runners (forwards, transition players, and defensemen) and a goaltender on the floor during the game. Each team dresses 19 players (17 runners and two goaltenders) per game, and the players rotate on and off the floor in shifts, similar to ice hockey.
The FireWolves are fierce competitors, hunt together and are loyal to the pack. The Albany FireWolves organization holds the values of teamwork, competitive desire and community focus in the highest regard as we honor the heritage of lacrosse and the National Lacrosse League teams that came before us, while working to create a positive impact throughout the Capital Region.
For more information, visit the Albany FireWolves official site.