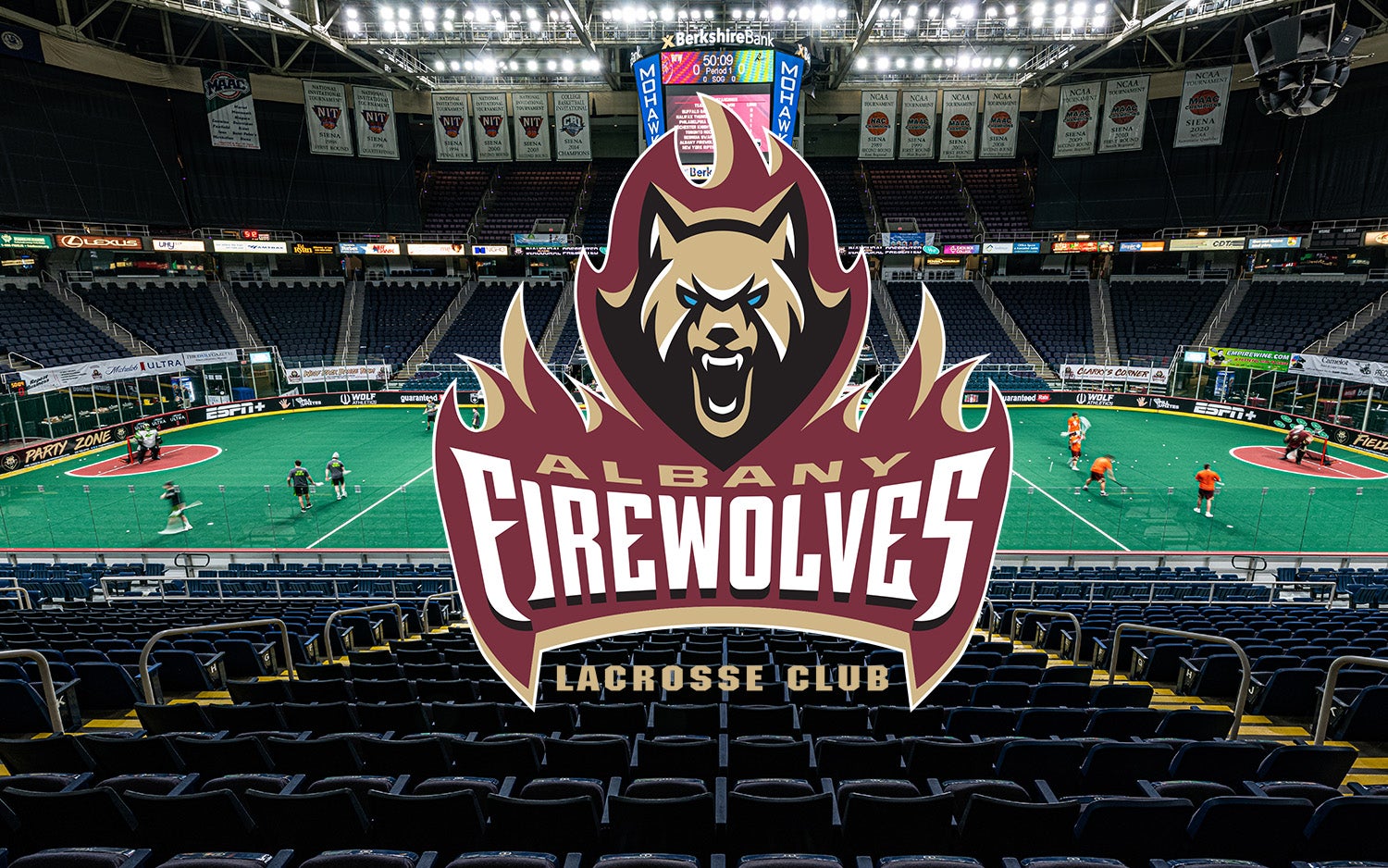 Albany FireWolves 2023-2024 Schedule
Dec
9
|

2023
-
Apr
6
|

2024
Albany FireWolves 2023-2024 Schedule
Event Details
The Albany FireWolves is the Capital Region's very own Professional Box Lacrosse team, playing in the National Lacrosse League out of the MVP Arena in downtown Albany, NY. Season tickets are on sale now for the 2023-2024 season. Visit albanyfirewolves.com or call/text the FireWolves front office at 518-362-4900 to learn more.
Home Schedule:
Saturday, December 9 @ 7pm vs Buffalo Bandits • Season 3 Premiere
Saturday, January 6 @ 7pm vs Halifax Thunderbirds • Country Night
Saturday, January 20 @ 7pm vs San Diego Seals • Margaritaville Night
Saturday, February 3 @ 7pm vs Las Vegas Desert Dogs • Salute to Service
Saturday, February 17 @ 7pm vs Colorado Mammoth • Alphie's Birthday Bash
Saturday, March 2 @ 7pm vs New York Riptide • Marvel Superhero Night
Friday, March 8 @ 7pm vs Vancouver Warriors • Indigenous Celebration
Saturday, March 16 @ 7pm vs Rochester Knighthawks • St. Patrick's Party
Saturday, April 6 @ 7pm vs Toronto Rock • Retro Night
Additional Ticket Information
All sales are final. No refunds, exchanges or upgrades.
Prices are subject to change.
Tickets for Albany FireWolves are available for purchase in person at the MVP Arena Box Office. Box Office hours are Mon-Fri 10am-4pm. Purchases on Ticketmaster will incur additional service/order fees. Only standard admission tickets are available at the Box Office.
For VIP packages and group sales, call/text Albany FireWolves front office at 518-362-4900
December 9 vs Buffalo Bandits SEASON 3 PREMIERE
Season 3 Premiere! Opening Night Blackout. Lights, Camera, Action! Join us for a blockbuster night as we premiere the third season of Albany FireWolves lacrosse!
Black Out (all fans are encouraged to wear black)
Jersey rally towel giveaway for the first 1,500 fans
Autographed poster giveaway to the first 1,200 fans
FireWolves will premier new jerseys for the 2023-2024 season
Pre-game ribbon cutting ceremony in the atrium
Themed photo booth
Themed merchandise
Post-game autographs with the full team
January 6 vs Halifax Thunderbirds COUNTRY NIGHT
Bring out your favorite cowboy hat and boots to come have a hoot n' howlin' good time for Country Night
Poster giveaway to the first 1,200 fans
Ride the mechanical bull
Listen to your favorite country tunes througout the night
Themed merchandise
January 20 vs San Diego Seals MARGARITAVILLE NIGHT
Island vibes and good times, it's Margaritaville Night at its best. Come chill out and chilLAX to turn January frost into a tropical beach party
Poster giveaway to the first 1,200 fans
Margarita drink specials
Halftime limbo contest
Themed photo booth
February 3 vs Las Vegas Desert Dogs SALUTE TO SERVICE
Join the FireWolves for a night of appreciation as we salute the heroes among us. Our Salute to Service night honors active-duty military, veterans, first responders, and their families. A night united in gratitude, our Salute to Service features support from local armed forces branches and community heroes!
Poster giveaway to the first 1,200 fans
Pre-game and halftime ceremonies honoring local service members
Halftime Oath of Enlistment ceremony
Themed merchandise
February 17 vs Colorado Mammoth ALPHIE'S BIRTHDAY BASH
It's Alphie's Birthday Bash and you are invited to the party! Join in the fun and help us celebrate our favorite mascot on his big day with all of his mascot friends!
Alphie birthday bobblehead to the first 1,500 fans
Poster giveaway to the first 1,200 fans
Mascot photo opportunities
March 2 vs New York Riptide MARVEL SUPERHERO NIGHT
FireWolves to the rescue! Dress up as your favorite superhero and enjoy an action packed night of FireWolves lacrosse
Exclusive Albany FireWolves Marvel comic book giveaway to the first 3,000 fans
Poster giveaway to the first 1,200 fans
Themed photo booth
Marvel themed fun throughout the night
March 8 vs Vancouver Warriors INDIGENOUS CELEBRATION
Join us as we honor the creator's game through a variety of ceremonies, exhibits, narratives and much more!
Poster giveaway to the first 1,200 fans
Indigenous dance ceremony
Concourse education opportunities
Themed merchandise
March 16 vs Rochester Knighthawks ST. PATRICK'S PARTY
Wear green and join us for a rockin' St. Patrick's Party! Come celebrate Irish heritage in the Capital Region with a day full of St. Patrick's Party fun!
Poster giveaway to the first 1,200 fans
Themed photo booth
Themed merchandise
April 16 vs Toronto Rock RETRO NIGHT
We are turning back the clock to your favorite music, movies, fashion and more from the 70's, 80's, 90's and early-2000's
Poster giveaway to the first 1,200 fans
FireWolves players to wear specialty retro themed jerseys
Come dressed for your decade
Best dressed competition
Themed photo booth
Post-game autographs with the full team
CLEAR plastic, vinyl or PVC bags no larger than 12" x 6" x 12" will be allowed. Small clutch bags no larger than 4.5" x 6.5" (approximately the size of a hand) will be allowed and do not need to be clear. Larger and other types of bags are prohibited.
There is no storage or check-in for prohibited bags. For patrons with young children in attendance, diaper bags are allowed and subject to search.
Spend quality time with family, friends, colleagues, clients, and other important people in your life. Gather a group of 10 or more people for a fun outing at a FireWolves game.
Learn more by clicking here
The following items are prohibited:
professional cameras
video/audio recorders including GoPro and stick style HD cameras
weapons of any kind
backpacks
outside food and beverage
glass items
fireworks
laser pens, glow sticks
banners on poles
selfie sticks
umbrellas
poster tubes
Concessions do not accept cash. Cards, Apple Pay and Google Pay are accepted.
MVP Arena Parking Garage is located behind and attached to MVP Arena. It can be accessed from either Beaver St. or Market St. Use street number 100 for GPS.
For Albany FireWolves, rate is $10 per vehicle (6'6" clearance). Cash and cards are accepted methods of payment. Rates charged at surrounding garages and lots may differ and are not controlled by MVP Arena.
If parking in MVP Arena Parking Garage, use the arena entrance located on level 3.
Parking in the MVP Arena Parking Garage will be limited due to construction. For additional parking options near MVP Arena, please visit Park Albany
Download the Ticketmaster app and login with the credentials you used to purchase your tickets. Tap My Events to locate your order and view your tickets. To get in, security will scan your ticket directly from your phone.
ENCOURAGED: Add your ticket to your digital wallet before arriving to avoid weak Wi-Fi or cellular connection. If attending with others, you can transfer each person their ticket in advance to ensure swift entry.
Note: Your barcode includes technology to protect it. You will not be able to use a screenshot or print out. Barcodes will time out. It is recommended you open your tickets upon approaching security.